/
---
| | Program | Jurusan | Peminatan | Jenjang Studi | Biaya Kuliah |
| --- | --- | --- | --- | --- | --- |
| 1 | Bachelor of Business (Specialisation) Periode ajaran: Jul,Mar,Nov | Business | Business Management | Undergraduate (e.g. Bachelor) | AUD 27.420 / Year Lama kuliah: 36 Bulan |
| 2 | Bachelor of Accounting Periode ajaran: Jul,Mar,Nov | Business | Accounting | Undergraduate (e.g. Bachelor) | AUD 27.780 / Year Lama kuliah: 36 Bulan |
| 3 | Bachelor of Accounting/Bachelor of Business Periode ajaran: Jul,Mar,Nov | Business | Marketing | Undergraduate (e.g. Bachelor) | AUD 27.780 / Year Lama kuliah: 48 Bulan |
| 4 | Bachelor of Arts / Bachelor of Business Periode ajaran: Jul,Mar | Business | Marketing | Undergraduate (e.g. Bachelor) | AUD 28.440 / Year Lama kuliah: 48 Bulan |
| 5 | Bachelor of Professional Communication Periode ajaran: Jul,Mar | Communications | Communication & Media Studies | Undergraduate (e.g. Bachelor) | AUD 26.880 / Year Lama kuliah: 36 Bulan |
| 6 | Master of Business Administration Periode ajaran: Jul,Mar,Nov | Business | Business Administration and Management | Postgraduate (e.g. Master, PGD, Pre-Master) | AUD 27.840 / Year Lama kuliah: 18 Bulan |
| 7 | Master of Management For Engineers Periode ajaran: Jul,Mar,Nov | Management | Management | Postgraduate (e.g. Master, PGD, Pre-Master) | AUD 27.300 / Year Lama kuliah: 24 Bulan |
| 8 | Graduate Certificate in Business Administration Periode ajaran: Jul,Mar,Nov | Business | Business Administration and Management | Postgraduate (e.g. Master, PGD, Pre-Master) | AUD 13.920 / FULL Lama kuliah: 6 Bulan |
| 9 | Graduate Diploma in Business Administration Periode ajaran: Jul,Mar,Nov | Business | Business Administration and Management | Postgraduate (e.g. Master, PGD, Pre-Master) | AUD 27.840 / FULL Lama kuliah: 12 Bulan |
| 10 | Graduate Diploma of Information Technology Periode ajaran: Jul,Mar,Nov | Computer and Information Sciences | Information Technology | Postgraduate (e.g. Master, PGD, Pre-Master) | AUD 29.220 / FULL Lama kuliah: 12 Bulan |
| 11 | Graduate Certificate of Information Technology Periode ajaran: Jul,Mar,Nov | Computer and Information Sciences | Information Technology | Postgraduate (e.g. Master, PGD, Pre-Master) | AUD 14.460 / FULL Lama kuliah: 6 Bulan |
| 12 | Graduate Diploma in Human Resources Management Periode ajaran: Jul,Mar,Nov | Business | Human Resources | Postgraduate (e.g. Master, PGD, Pre-Master) | AUD 27.210 / FULL Lama kuliah: 12 Bulan |
| 13 | Graduate Certificate in Project Management Periode ajaran: Jul,Mar,Nov | Business | Business Management | Postgraduate (e.g. Master, PGD, Pre-Master) | AUD 13.560 / FULL Lama kuliah: 6 Bulan |
| 14 | Master of Information Technology Periode ajaran: Jul,Mar,Nov | Computer and Information Sciences | Information Technology | Postgraduate (e.g. Master, PGD, Pre-Master) | AUD 29.220 / Year Lama kuliah: 24 Bulan |
| 15 | Master of Information Systems Periode ajaran: Jul,Mar,Nov | Computer and Information Sciences | Information Systems | Postgraduate (e.g. Master, PGD, Pre-Master) | AUD 29.220 / Year Lama kuliah: 24 Bulan |
| 16 | Bachelor of Digital Media Periode ajaran: Jul,Mar | Communications | Digital Media | Undergraduate (e.g. Bachelor) | AUD 26.160 / Year Lama kuliah: 36 Bulan |
| 17 | Bachelor of Nursing Periode ajaran: Jul,Mar | Health | Nursing (RN) | Undergraduate (e.g. Bachelor) | AUD 28.410 / Year Lama kuliah: 36 Bulan |
| 18 | Bachelor of Medical Science (Specialisation) Periode ajaran: Jul,Mar | Biological Sciences | Science | Undergraduate (e.g. Bachelor) | AUD 31.140 / Year Lama kuliah: 36 Bulan |
| 19 | Bachelor of Science - Chiropractic Periode ajaran: Mar | Biological Sciences | Science | Undergraduate (e.g. Bachelor) | AUD 31.770 / Year Lama kuliah: 36 Bulan |
| 20 | Bachelor of Paramedic Science Periode ajaran: Jul,Mar | Biological Sciences | Science | Undergraduate (e.g. Bachelor) | AUD 30.288 / Year Lama kuliah: 36 Bulan |
| 21 | Bachelor of Engineering (Honours) Periode ajaran: Jul,Mar | Engineering | Engineering | Undergraduate (e.g. Bachelor) | AUD 32.160 / Year Lama kuliah: 48 Bulan |
| 22 | Bachelor of Engineering CO-OP/Diploma of Professional Practice Engineering Periode ajaran: Mar | Engineering | Engineering | Undergraduate (e.g. Bachelor) | AUD 32.160 / Year Lama kuliah: 54 Bulan |
| 23 | Bachelor of Hospitality Management Periode ajaran: Jul,Mar | Business | Hospitality Administration and Management | Undergraduate (e.g. Bachelor) | AUD 27.600 / Year Lama kuliah: 24 Bulan |
| 24 | Diploma of Business Studies Periode ajaran: Jul,Mar,Nov | Business | Business Management | Diploma Pathway | AUD 27.420 / FULL Lama kuliah: 12 Bulan |
| 25 | Graduate Certificate in Social Innovation Periode ajaran: Mar | Business | Business Management | Postgraduate (e.g. Master, PGD, Pre-Master) | AUD 11.640 / FULL Lama kuliah: 6 Bulan |
| 26 | Graduate Certificate of Professional Accounting Periode ajaran: Jul,Mar,Nov | Business | Accounting | Postgraduate (e.g. Master, PGD, Pre-Master) | AUD 14.190 / FULL Lama kuliah: 6 Bulan |
| 27 | Graduate Diploma of Professional Accounting Periode ajaran: Jul,Mar,Nov | Business | Accounting | Postgraduate (e.g. Master, PGD, Pre-Master) | AUD 28.380 / FULL Lama kuliah: 12 Bulan |
| 28 | Graduate Diploma of Project Management Periode ajaran: Jul,Mar,Nov | Management | Management | Postgraduate (e.g. Master, PGD, Pre-Master) | AUD 27.210 / FULL Lama kuliah: 12 Bulan |
| 29 | Master of Human Resource Management Periode ajaran: Jul,Mar,Nov | Business | Human Resources | Postgraduate (e.g. Master, PGD, Pre-Master) | AUD 27.300 / Year Lama kuliah: 24 Bulan |
| 30 | Master of Marketing Periode ajaran: Jul,Mar,Nov | Business | Marketing | Postgraduate (e.g. Master, PGD, Pre-Master) | AUD 28.380 / Year Lama kuliah: 24 Bulan |
| 31 | Master of Professional Accounting Periode ajaran: Jul,Mar,Nov | Business | Accounting | Postgraduate (e.g. Master, PGD, Pre-Master) | AUD 28.380 / Year Lama kuliah: 24 Bulan |
| 32 | Master of Project Management Periode ajaran: Jul,Mar,Nov | Architecture | Project Management | Postgraduate (e.g. Master, PGD, Pre-Master) | AUD 27.120 / Year Lama kuliah: 24 Bulan |
| 33 | Master of Sustainable Tourism Management Periode ajaran: Jul,Mar,Nov | Business | Tourism and Hospitality | Postgraduate (e.g. Master, PGD, Pre-Master) | AUD 27.210 / Year Lama kuliah: 24 Bulan |
| 34 | Doctor of Philosophy - Arts, Humanities and Education Periode ajaran: Jul,Mar,Nov | Visual and Performing Arts | Arts | PhD | AUD 25.324 / Year Lama kuliah: 48 Bulan |
| 35 | Bachelor of Music (Specialisation) Periode ajaran: Jul,Mar | Creative Arts | Music | Undergraduate (e.g. Bachelor) | AUD 26.160 / Year Lama kuliah: 36 Bulan |
| 36 | Bachelor of Theatre (Specialisation) Periode ajaran: Jul,Mar | Creative Arts | Theatre | Undergraduate (e.g. Bachelor) | AUD 26.160 / Year Lama kuliah: 36 Bulan |
| 37 | Master of Arts (By Research) Periode ajaran: Jul,Mar,Nov | Visual and Performing Arts | Arts | Postgraduate (e.g. Master, PGD, Pre-Master) | AUD 25.324 / Year Lama kuliah: 24 Bulan |
| 38 | Bachelor of Education (Early Childhood) Periode ajaran: Jul,Mar | Education | Education | Undergraduate (e.g. Bachelor) | AUD 24.000 / Year Lama kuliah: 48 Bulan |
| 39 | Bachelor of Education (Secondary) Periode ajaran: Jul,Mar | Education | Education | Undergraduate (e.g. Bachelor) | AUD 31.200 / Year Lama kuliah: 48 Bulan |
| 40 | Diploma of Arts Periode ajaran: Jul,Mar | Visual and Performing Arts | Arts | Diploma Pathway | AUD 30.630 / FULL Lama kuliah: 12 Bulan |
| 41 | Doctor of Education Periode ajaran: Jul,Mar | Education | Education | PhD | AUD 25.324 / Year Lama kuliah: 48 Bulan |
| 42 | Doctor of Professional Studies Periode ajaran: Jul,Mar,Nov | Visual and Performing Arts | Arts | PhD | AUD 25.324 / Year Lama kuliah: 48 Bulan |
| 43 | Master of Education (By Research) Periode ajaran: Jul,Mar,Nov | Education | Education | Postgraduate (e.g. Master, PGD, Pre-Master) | AUD 25.324 / Year Lama kuliah: 24 Bulan |
| 44 | Master of Engineering Periode ajaran: Jul,Mar,Nov | Engineering | Engineering | Postgraduate (e.g. Master, PGD, Pre-Master) | AUD 29.250 / Year Lama kuliah: 24 Bulan |
| 45 | Doctor of Philosophy - Sciences, Engineering and Health Periode ajaran: Jul,Mar,Nov | Biological Sciences | Science | PhD | AUD 28.904 / Year Lama kuliah: 48 Bulan |
| 46 | Bachelor of Accident Forensics Periode ajaran: Jul,Mar | Physical Sciences | Forensic Science | Undergraduate (e.g. Bachelor) | AUD 28.620 / Year Lama kuliah: 36 Bulan |
| 47 | Bachelor of Exercise and Sport Sciences Periode ajaran: Jul,Mar | Communications | Sports Communications | Undergraduate (e.g. Bachelor) | AUD 29.250 / Year Lama kuliah: 36 Bulan |
| 48 | Bachelor of Health Science (Allied Health) Periode ajaran: Jul,Mar | Health | Health | Undergraduate (e.g. Bachelor) | AUD 29.250 / Year Lama kuliah: 36 Bulan |
| 49 | Bachelor of Occupational Health and Safety Periode ajaran: Jul,Mar | Health | Health | Undergraduate (e.g. Bachelor) | AUD 28.620 / Year Lama kuliah: 36 Bulan |
| 50 | Bachelor of Occupational Therapy (Honours) Periode ajaran: Mar | Health | Health | Undergraduate (e.g. Bachelor) | AUD 30.510 / Year Lama kuliah: 48 Bulan |
| 51 | Bachelor of Oral Health Periode ajaran: Mar | Health | Health | Undergraduate (e.g. Bachelor) | AUD 31.770 / Year Lama kuliah: 36 Bulan |
| 52 | Bachelor of Physiotherapy (Honours) Periode ajaran: Mar | Health | Health | Undergraduate (e.g. Bachelor) | AUD 30.510 / Year Lama kuliah: 48 Bulan |
| 53 | Bachelor of Podiatry Practice (Honours) Periode ajaran: Mar | Health | Health | Undergraduate (e.g. Bachelor) | AUD 29.250 / Year Lama kuliah: 48 Bulan |
| 54 | Master of Health Science Periode ajaran: Jul,Mar,Nov | Health | Health | Postgraduate (e.g. Master, PGD, Pre-Master) | AUD 25.324 / Year Lama kuliah: 24 Bulan |
| 55 | Master of Human Movement Science Periode ajaran: Feb,Jul | Health | Health | Postgraduate (e.g. Master, PGD, Pre-Master) | AUD 28.904 / Year Lama kuliah: 24 Bulan |
| 56 | Bachelor of Aviation (Commercial Pilot) Periode ajaran: Jul,Mar | Physical Sciences | Aeronautics and Aviation Science | Undergraduate (e.g. Bachelor) | AUD 32.820 / Year Lama kuliah: 36 Bulan |
| 57 | Bachelor of Information Technology (Co-Op) Periode ajaran: Jul,Mar,Nov | Communications | Digital Media | Undergraduate (e.g. Bachelor) | AUD 29.040 / Year Lama kuliah: 36 Bulan |
| 58 | Bachelor of Information Technology Periode ajaran: Jul,Mar,Nov | Computer and Information Sciences | Information Technology | Undergraduate (e.g. Bachelor) | AUD 29.040 / Year Lama kuliah: 36 Bulan |
| 59 | Diploma of Information and Communication Technology Periode ajaran: Jul,Mar,Nov | Computer and Information Sciences | Information Technology | Diploma Pathway | AUD 29.040 / FULL Lama kuliah: 12 Bulan |
| 60 | Graduate Certificate in Information Systems Periode ajaran: Jul,Mar,Nov | Computer and Information Sciences | Information Systems | Postgraduate (e.g. Master, PGD, Pre-Master) | AUD 14.460 / FULL Lama kuliah: 6 Bulan |
| 61 | Graduate Diploma of Information Systems Periode ajaran: Jul,Mar,Nov | Computer and Information Sciences | Information Systems | Postgraduate (e.g. Master, PGD, Pre-Master) | AUD 29.220 / FULL Lama kuliah: 12 Bulan |
| 62 | Doctor of Philosophy - Business and Informatics Periode ajaran: Jul,Mar | Business | Business Management | PhD | AUD 25.324 / Year Lama kuliah: 48 Bulan |
| 63 | Master of Informatics Periode ajaran: Jul,Mar,Nov | Computer and Information Sciences | Information Systems | Postgraduate (e.g. Master, PGD, Pre-Master) | AUD 25.324 / Year Lama kuliah: 24 Bulan |
| 64 | Bachelor of Psychological Science Periode ajaran: Jul,Mar,Nov | Social Sciences | Psychology | Undergraduate (e.g. Bachelor) | AUD 27.360 / Year Lama kuliah: 36 Bulan |
| 65 | Bachelor of Psychological Science (Honours) Periode ajaran: Jul,Mar | Social Sciences | Psychology | Undergraduate (e.g. Bachelor) | AUD 27.570 / FULL Lama kuliah: 12 Bulan |
| 66 | Bachelor of Social Work (Honours) Periode ajaran: Jul,Mar | Public Administration | Social Work | Undergraduate (e.g. Bachelor) | AUD 25.392 / Year Lama kuliah: 48 Bulan |
| 67 | Master of Communication Periode ajaran: Jul,Mar,Nov | Communications | Communications | Postgraduate (e.g. Master, PGD, Pre-Master) | AUD 25.324 / Year Lama kuliah: 24 Bulan |
| 68 | Bachelor of Agriculture Periode ajaran: Mar | Agriculture | Agriculture | Undergraduate (e.g. Bachelor) | AUD 27.990 / Year Lama kuliah: 36 Bulan |
| 69 | Bachelor of Environmental Science Periode ajaran: Jul,Mar | Biological Sciences | Environmental Science | Undergraduate (e.g. Bachelor) | AUD 28.896 / Year Lama kuliah: 36 Bulan |
| 70 | Bachelor of Science Periode ajaran: Jul,Mar | Biological Sciences | Science | Undergraduate (e.g. Bachelor) | AUD 31.140 / Year Lama kuliah: 36 Bulan |
| 71 | Bachelor of Science (Honours) Periode ajaran: Jul,Mar | Biological Sciences | Science | Undergraduate (e.g. Bachelor) | AUD 32.400 / FULL Lama kuliah: 12 Bulan |
| 72 | Master of Applied Science Periode ajaran: Jul,Mar,Nov | Biological Sciences | Science | Postgraduate (e.g. Master, PGD, Pre-Master) | AUD 28.904 / Year Lama kuliah: 24 Bulan |
| 73 | Bachelor of Education (Primary) Periode ajaran: Jul,Mar | Education | Education | Undergraduate (e.g. Bachelor) | AUD 24.000 / Year Lama kuliah: 48 Bulan |
| 74 | Bachelor of Creative Arts Periode ajaran: Jul,Mar | Arts | Creative Arts | Undergraduate (e.g. Bachelor) | AUD 26.160 / Year Lama kuliah: 36 Bulan |
SOP Guideline - Statement of Purpose Show
1 Reviews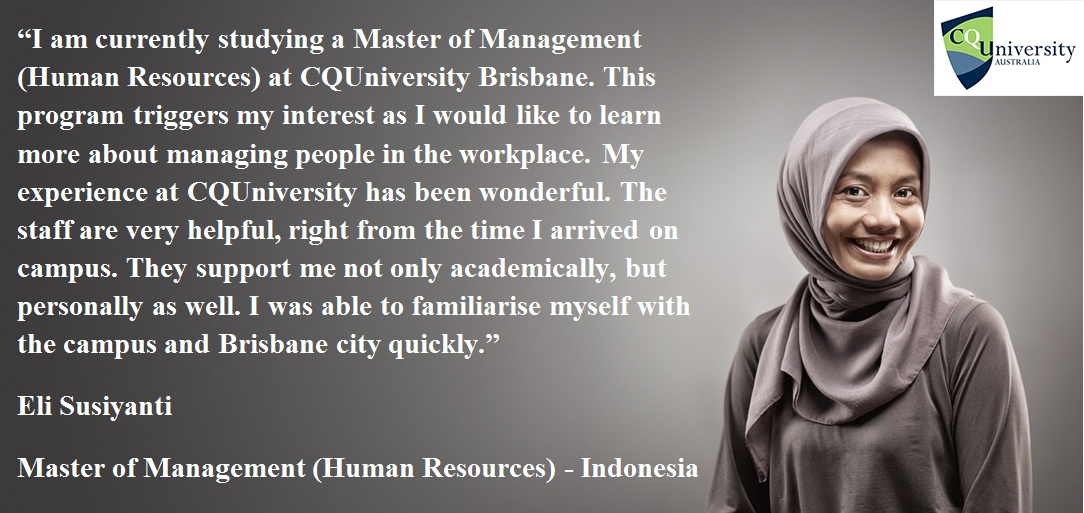 Eli Susiyanti
I'm currently studying a Master of Management (Human Resources) at CQUniversity Brisbane. This program triggers my interest as I would like to learn more about managing people in the workplace. My experience at CQUniversity has been wonderful. The staff are very helpful, right from the time I arrived on campus. They support me not only academically, but personally as well. I was able to familiarise myself with the campus and Brisbane campus quickly.?
0000-00-00 00:00:00
Beasiswa yang ditawarkan
No data found
Konten yang ada di website ini hanya berisi informasi umum saja, baik diambil dari website, brosur, selebaran, maupun informasi yang diberikan langsung oleh perwakilan institusi atau sumber lainnya. Data hanya digunakan untuk referensi, dan perbaruan berkala mungkin terjadi tanpa diberitahukan sebelumnya. SUN Education tidak bertanggung jawab atas kerusakan atau kehilangan yang disebabkan oleh pengguna berdasarkan data yang tersedia. Untuk informasi yang lebih lengkap dan akurat, berkonsultasilah selalu dengan setiap konselor SUN Education.