/
---
| | Program | Jurusan | Peminatan | Jenjang Studi | Biaya Kuliah |
| --- | --- | --- | --- | --- | --- |
| 1 | Master of International Business Periode ajaran: Feb,Jul | Business | International Business | Postgraduate (e.g. Master, PGD, Pre-Master) | AUD 35.400 / FULL Lama kuliah: 24 Bulan |
| 2 | Master of Management (Tourism and Hospitality) Periode ajaran: Feb,Jul | Business | Tourism and Hospitality | Postgraduate (e.g. Master, PGD, Pre-Master) | AUD 35.400 / FULL Lama kuliah: 24 Bulan |
| 3 | Master of Management (Management & Organisations) Periode ajaran: Feb,Jul | Management | Management | Postgraduate (e.g. Master, PGD, Pre-Master) | AUD 35.400 / FULL Lama kuliah: 24 Bulan |
| 4 | Bachelor of Business Management (BBM) Periode ajaran: Feb,May | Business | Business Management | Undergraduate (e.g. Bachelor) | AUD 74.567 / FULL Lama kuliah: 33 Bulan |
| 5 | Bachelor of Event Management Periode ajaran: Feb,May | Business | Event Management | Undergraduate (e.g. Bachelor) | AUD 83.867 / FULL Lama kuliah: 36 Bulan |
| 6 | Bachelor of Hospitality Management Periode ajaran: Feb,May | Business | Hospitality Administration and Management | Undergraduate (e.g. Bachelor) | AUD 83.867 / FULL Lama kuliah: 36 Bulan |
| 7 | Bachelor of International Tourism Periode ajaran: Feb,May | Business | Tourism and Hospitality | Undergraduate (e.g. Bachelor) | AUD 83.867 / FULL Lama kuliah: 36 Bulan |
| 8 | Bachelor of Property (Development, Investment, and Valuation) Periode ajaran: Feb,May | Management | Management | Undergraduate (e.g. Bachelor) | AUD 83.867 / FULL Lama kuliah: 36 Bulan |
| 9 | Bachelor of Sports Management Periode ajaran: Feb,May | Communications | Sports Communications | Undergraduate (e.g. Bachelor) | AUD 83.867 / FULL Lama kuliah: 36 Bulan |
| 10 | Diploma in Golf Management Periode ajaran: Feb,May | Business | Business Management | Diploma Pathway | AUD 34.250 / FULL Lama kuliah: 8 Bulan |
| 11 | Graduate Certificate in Business Periode ajaran: Feb,Jul | Business | Business Management | Postgraduate (e.g. Master, PGD, Pre-Master) | AUD 11.800 / FULL Lama kuliah: 24 Bulan |
Prospectus Not Found
1 Reviews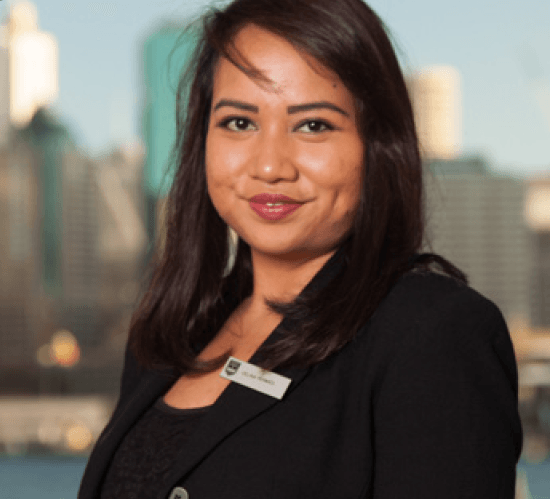 Celina Andjani Nata Permadi
Working in the hospitality industry has been my dream since I was six years old. To help reach my dream I undertook my Bachelor in business administration, hotel and tourism management, and now I'm completing a Master at ICMS.
At ICMS, there are several different natioanlities in one class. I've never experienced this before. Also I've got very good lecturers, they bring a good vibe to the class, and students are never bored. ICMS always tries to make students satisfied with their studies, moreover there is no university located in a wonderful place like Manly with a beach view.
0000-00-00 00:00:00
Beasiswa yang ditawarkan
No data found
Konten yang ada di website ini hanya berisi informasi umum saja, baik diambil dari website, brosur, selebaran, maupun informasi yang diberikan langsung oleh perwakilan institusi atau sumber lainnya. Data hanya digunakan untuk referensi, dan perbaruan berkala mungkin terjadi tanpa diberitahukan sebelumnya. SUN Education tidak bertanggung jawab atas kerusakan atau kehilangan yang disebabkan oleh pengguna berdasarkan data yang tersedia. Untuk informasi yang lebih lengkap dan akurat, berkonsultasilah selalu dengan setiap konselor SUN Education.